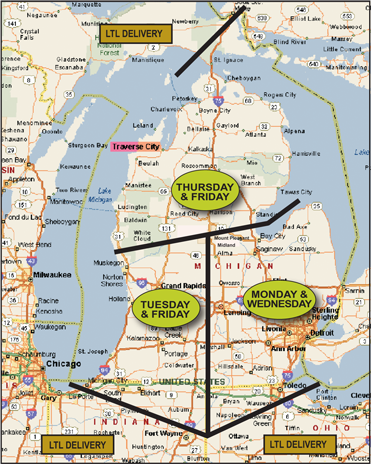 LLJ TRUCK DELIVERY CHARGES (min. chrg. / m)

Adrian 

 $       61

Jackson

 $       47

Akron, OH

 $     237

Joliet, IL

 $     219

Alma

 $       67

Kalamazoo

 $       53

Alpena

 $     124

Lakewood, OH

 $     216

Ann Arbor

 $       55

Lansing

 $       43

Archbold, OH

 $       82

LaPorte, IN

 $       86

Bad Axe

 $     110

Lima, OH

 $     179

Bay City

 $       78

Lorain, OH

 $     199

BentonHarbor/St. Joseph

 $       66

Ludington

 $       90

Big Rapids

 $       75

Mansfield, OH

 $     219

Bowling Green, OH

 $     120

Marlette

 $       88

Boyne City

 $       94

Michigan City, IN

 $       86

Cadillac

 $       82

Midland

 $       78

Chicago

 $     212

Mt. Pleasant

 $       70

Clare

 $       74

Muskegon

 $       73

Cleveland, OH

 $     220

Nappanee, IN

 $       81

Coldwater

 $       53

New Buffalo

 $       82

Columbus, OH

 $     249

Norwalk, OH

 $     191

Dayton, OH

 $     239

Petoskey

 $       99

Detroit (East)

 $       74

Piqua, OH

 $     219

Detroit (West)

 $       63

Pontiac

 $       63

Elkhart, IN

 $       69

Port Clinton, OH

 $     185

Elyria, OH

 $     199

Port Huron

 $       88

Findlay, OH

 $     139

Saginaw

 $       74

Flint

 $       63

Sandusky, OH

 $     189

Fort Wayne, IN

 $       82

Sault St Marie

 $     153

Grand Rapids

 $       55

South Bend, IN

 $       69

Grayling

St. Ignace

 $     129

Holland

 $       63

Tawas City

 $     120

Howell

 $       53

Toledo, OH

 $       88

Indianapolis, IN

 $     239

Traverse City

 $       90

Valparasio, IN

 $     100
LTL (EASTERN MIDWEST) ESTIMATED PRICING
| | | | | | | |
| --- | --- | --- | --- | --- | --- | --- |
| City | Zip | 10# | 30# | 70# | 400# | 1500# |
| ADRIAN | 49221 | 14.23 | 17.25 | 27.94 | 100.35 | 170.71 |
| ALMA | 48801 | 16.43 | 19.45 | 30.14 | 103.20 | 180.27 |
| ALPENA | 49707 | 16.53 | 20.74 | 33.36 | 107.72 | 232.23 |
| ANN ARBOR | 48103 | 14.23 | 17.25 | 27.94 | 100.35 | 182.43 |
| ARHCBOLD OH | 43502 | 16.43 | 19.45 | 30.14 | 100.35 | 207.90 |
| BAD AXE | 48413 | 16.43 | 19.45 | 30.14 | 100.35 | 195.30 |
| BAY CITY | 48706 | 14.23 | 17.25 | 27.94 | 100.35 | 187.69 |
| BENTON HARBOR | 49022 | 14.23 | 17.25 | 27.94 | 100.35 | 183.50 |
| BIG RAPIDS | 49307 | 16.43 | 19.45 | 30.14 | 100.35 | 185.66 |
| BOYNE CITY | 49712 | 16.53 | 20.74 | 33.36 | 105.99 | 228.43 |
| CADILLAC | 49601 | 16.43 | 19.45 | 30.14 | 100.35 | 228.43 |
| CLARE | 48617 | 16.43 | 19.45 | 30.14 | 100.35 | 201.38 |
| COLDWATER | 49036 | 16.43 | 19.45 | 30.14 | 100.35 | 201.38 |
| DETROIT (EAST) | 48220 | 14.23 | 17.25 | 27.94 | 100.35 | 181.54 |
| DETROIT (WEST) | 48222 | 14.23 | 17.25 | 27.94 | 100.35 | 181.54 |
| FLINT | 48505 | 14.23 | 17.25 | 27.94 | 100.35 | 168.17 |
| FORT WAYNE | 46801 | 14.23 | 17.25 | 27.94 | 100.35 | 206.00 |
| GRAND RAPIDS | 49505 | 14.23 | 17.25 | 27.94 | 100.35 | 174.76 |
| HOLLAND | 49422 | 14.23 | 17.25 | 27.94 | 100.35 | 187.69 |
| JACKSON | 49201 | 14.23 | 17.25 | 27.94 | 100.35 | 189.47 |
| KALAMAZOO | 49009 | 14.23 | 17.25 | 27.94 | 100.35 | 187.69 |
| LANSING | 48910 | 14.23 | 17.25 | 27.94 | 100.35 | 168.17 |
| LUDINGTON | 49431 | 16.43 | 19.45 | 30.14 | 103.20 | 209.61 |
| MARLETTE | 48453 | 16.43 | 19.45 | 30.14 | 100.35 | 207.90 |
| MIDLAND | 48686 | 14.23 | 17.25 | 27.94 | 100.35 | 195.92 |
| MT. PLEASANT | 48804 | 14.23 | 17.25 | 27.94 | 106.18 | 185.59 |
| MUSKEGON | 49440 | 14.23 | 17.25 | 27.94 | 100.35 | 201.38 |
| NAPPANEE | 46550 | 16.43 | 19.45 | 30.14 | 100.35 | 192.00 |
| PETOSKEY | 49770 | 16.53 | 20.74 | 33.36 | 121.77 | 263.29 |
| PONTIAC | 48340 | 14.23 | 17.25 | 27.94 | 100.35 | 183.75 |
| PORT HURON | 48060 | 14.23 | 17.25 | 27.94 | 100.35 | 185.21 |
| SAGINAW | 48601 | 14.23 | 17.25 | 27.94 | 100.35 | 183.75 |
| SOUTH BEND IN | 46612 | 14.23 | 17.25 | 27.94 | 100.35 | 202.17 |
| ST INGNACE | 49781 | 16.53 | 20.74 | 33.36 | 121.77 | 259.78 |
| TAWAS CITY | 48763 | 16.43 | 19.45 | 30.14 | 100.35 | 197.52 |
| TOLEDO | 43605 | 14.23 | 17.25 | 27.94 | 100.35 | 189.87 |
| TRAVERSE CITY | 49684 | 14.23 | 17.25 | 27.94 | 101.34 | 214.34 |
| VALPARASIO | 46383 | 14.23 | 17.25 | 27.94 | 100.35 | 204.40 |
LTL (NATIONAL) ESTIMATED PRICING
| | | | | | | |
| --- | --- | --- | --- | --- | --- | --- |
| City | Zip | 10# | 30# | 70# | 400# | 1500# |
| ALBUQUERQUE | 87101 | 16.08 | 25.01 | 43.82 | 184.12 | 547.62 |
| ATLANTA | 30301 | 15.45 | 21.35 | 38.04 | 138.81 | 327.86 |
| AUGUSTA | 04330 | 15.45 | 21.35 | 38.04 | 180.72 | 472.41 |
| BALTIMORE | 21201 | 15.02 | 19.49 | 33.83 | 161.70 | 422.53 |
| BOSTON | 02101 | 15.45 | 21.35 | 38.04 | 160.65 | 419.75 |
| BUTTE | 59701 | 18.28 | 27.21 | 46.02 | 288.53 | 737.54 |
| CEDAR RAPIDS | 52401 | 15.02 | 19.49 | 33.83 | 100.64 | 269.67 |
| CHARLOTTE | 28296 | 15.02 | 19.49 | 33.83 | 142.05 | 367.43 |
| CHICAGO | 60601 | 14.23 | 17.25 | 27.94 | 99.26 | 219.76 |
| CLEVELAND | 44101 | 14.33 | 18.54 | 31.16 | 99.26 | 219.76 |
| DALLAS | 75201 | 15.45 | 21.35 | 38.04 | 158.24 | 471.51 |
| DENVER | 80002 | 16.08 | 25.01 | 43.82 | 184.44 | 471.32 |
| GREEN BAY | 54301 | 14.33 | 18.54 | 31.16 | 120.39 | 266.47 |
| HONOLULU | 96801 | 39.82 | 73.73 | 148.82 | 0.00 | 0.00 |
| INDIANAPOLIS | 46201 | 14.33 | 18.54 | 31.16 | 111.29 | 246.14 |
| JACKSON | 39201 | 15.45 | 21.35 | 38.04 | 150.29 | 381.71 |
| LEXINGTON | 40502 | 14.33 | 18.54 | 31.16 | 113.19 | 249.14 |
| LOS ANGELES | 90001 | 18.08 | 31.89 | 56.61 | 265.93 | 679.54 |
| MEMPHIS | 37501 | 15.02 | 19.49 | 33.83 | 133.12 | 314.46 |
| MINNEAPOLIS | 55401 | 15.02 | 19.49 | 33.83 | 125.98 | 313.13 |
| MONTGOMERY | 36101 | 15.45 | 21.35 | 38.04 | 144.84 | 374.76 |
| NEW YORK | 10001 | 15.02 | 19.49 | 33.83 | 703.09 | 890.44 |
| OMAHA | 68101 | 15.02 | 19.49 | 33.83 | 130.87 | 329.38 |
| ORLANDO | 32801 | 15.45 | 21.35 | 38.04 | 243.52 | 630.15 |
| PHOENIX | 85001 | 16.98 | 28.03 | 49.62 | 221.31 | 565.46 |
| PITTSBURGH | 15122 | 14.33 | 18.54 | 31.16 | 116.69 | 258.19 |
| PORTLAND | 97296 | 18.08 | 31.89 | 56.61 | 265.93 | 679.54 |
| RAPID CITY | 57701 | 15.45 | 21.35 | 38.04 | 216.35 | 571.95 |
| RICHMOND | 23173 | 15.02 | 19.49 | 33.83 | 186.92 | 488.72 |
| SALT LAKE CITY | 84101 | 16.08 | 25.01 | 43.82 | 200.42 | 512.30 |
| SAN FRANSICO | 94101 | 18.08 | 31.89 | 56.61 | 324.90 | 830.28 |
| SAVANNAH | 31401 | 15.45 | 21.35 | 38.04 | 150.41 | 389.41 |
| ST LOUIS | 63101 | 15.02 | 19.49 | 33.83 | 126.03 | 278.90 |
| SYRACUSE | 13201 | 15.02 | 19.49 | 33.83 | 159.57 | 411.41 |
| WICHITA | 67201 | 15.45 | 21.35 | 38.04 | 167.67 | 427.85 |
EASE OF DELIVERY
"Just a short note to thank you for the ease of delivery with our first order. Your driver showed up within inches of the shop, never having been here before. He was cordial and a real pro, the entire time. We hope to see him again in the near future, hauling us another load. Thanks again for the experience! -- J.C. READ MORE CUSTOMER REVIEWS...
'pick-up orders ready
in 2 hours
Need it yesterday? We can help. Call toll-free 800-292-5937 for product availability and pricing. In most cases your order will be ready for pick-up within two hours at our Charlotte MI location.
'PICK-UP' HOURS
24/7 - Charlotte MI Location:
Ask us about our 24/7 Extended Pick-up Hours. Call
800-292-5937.
5 Days - SOUTH BEND IN LOCATION:
Tuesday - Friday: 9:30 - 5:30
Saturday: 9:30 - 3:00
Sunday & Monday: Closed.
ADDITIONAL SERVICES
WE DON'T CHARGE FOR:
We don't charge for delivery of plywood, veneers, dowels, finishes, glues, etc. when accompanying your lumber order shipped on our trucks.
WE DO CHARGE FOR:
We do charge for shipments using our trucks, based on one driver, one truck, ground level delivery from our Charlotte MI warehouse. Chart at left is our minimum delivery charges for orders of 1 board to 1,000 board feet.
ADDITIONAL DELIVERY SERVICES:
We provide additional services for your convenience...set up, unassisted delivery (no one home), and carry back to shop. Please call to inquire about the minimal charges for these services. 800-292-5937.