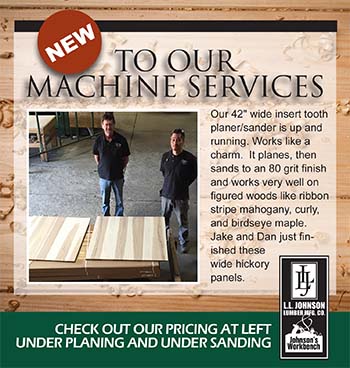 surface or face jointing
This machine service flattens cupped or twisted boards giving you one face dead flat on which to base your cuts. We handle widths up to 35".
PLANING
Our planing service can be requested as 'hit or miss' (minimal planing to remove dirt smudges and reduce surface roughness),'finished thickness' (planed to your required finished thickness with smooth surfaces), and 'super smooth' -- a real time saver -- (plane one or both faces to a super smooth surface resulting in minimal finish sanding needed to finalize your project).
RESAWING
If you need thinner stock than 4/4 for your project, then resawing is the way to go. We will resaw to your finished thickness.
Our resawing can also give you bookmatched or sequenced lumber sets adding an esthetically pleasing consistency to your finished project.
.
RESAWING & SURFACING
Printed lumber prices are for random width and random length lumber unless stated otherwise. We are happy to supply special widths and/or lengths for an additional nominal fee. Please contact us for availability and prices on special sizes.
RIPPING
Ripping will give you one or two true edges to base all your project measurements and cuts from for more accurately squared results.
RIP 1 EDGE, SURFACE 2 SIDES
This is an often requested machining combination. Our customers find it significantly shortens their project time and reduces the amount of sanding needed.