MARINE GRADE PLYWOOD PRICES
PRICES SUBJECT TO CHANGE WITHOUT NOTICE. PRICES UPDATED 11/11/15
MAKING SENSE OF MARINE PLYWOOD CHOICES
by Luke Wolstenholme, of Wolstenholme International
The many options and price points available to fulfill a wide range of marine applications make it important to understand the trade-offs.
Choices can range from the top of the line European Okoume marine in certified or non-certified, to the marine Meranti panels, or domestic Douglas Fir. These options and price points are available to fulfill a wide range of marine applications.
Its well known and often specified in trade journals and magazines such as WoodenBoat magazine and Professional Boatbuilder, that European Okoume marine plywood is the best choice of plywood for boat construction due to the fact that Okoume offers a great amount of durability without adding too much weight.
There is always that trade off with any marine plywood. Durability usually means, high density. For this reason, Okoume, Sapelle, Douglas Fir, and some specific types of Shorea (Red Meranti for example) are most commonly used in boat building. All of these species offer durability without adding excessive weight. These species peel exceptionally well as the trees are typically quite large in diameter -- a key factor in producing both core & face veneer that are free from knots or voids.
Marine plywood such as Hydrotek, produced to European standards, offer more ply's, and are uniform in specie throughout the panel (Red Meranti). These panels are less expensive than the European Okoume marine plywood, and they offer a greater durability and hardness than Okoume panels, however they are always heavier then Okoume panels, and typically not produced to the same quality standards. All of these panels we are discussing are produced with a Phenolic glue line, which is a waterproof glue.
Sapele marine plywood is not as commonly available in the US market as the cost of a sheet of Sapele is almost double that of Okoume plywood. However, Sapele offers a much harder face veneer than the Okoume plywood, which while durable, is considered soft.
BRITISH STANDARD 1088 (BS1088)
OR BRITISH STANDARD 6566 (BS6566)
Boat builders in the United States are requesting more and more that their plywood be made to the British Standard 1088 (BS1088) or British Standard 6566 (BS6566) known to be the toughest standards for plywood manufacturing.
The key point of this British Standard 1088, is that no core gaps greater than 0.3mm are allowed. Other, key points of the standard are the thickness of the face veneers -- they must be at least 1.0mm after sanding. Face thickness is always the most costly part of plywood manufacturing (as the nicest veneers are used for faces), and the BS1088 standard insures that your plywood will have a full thickness face. The British Standard 6566, is not as common as the BS1088 standard, both here and in Europe. However, as the BS6566 standard is still more stringent then the American PS-1-95 standard for marine Fir plywood, some companies do still offer this grade.
In addition to BS1088 standard, you will also find that some marine plywood manufacturers offer a "Lloyds" certified BS1088 panel. The Lloyd's Register Group is a maritime classification society and independent risk management organization providing risk assessment and mitigation services and management systems certification.
Historically, as Lloyd's Register of Shipping, it was a specifically maritime organization. In the late 20th century it diversified into other sectors, including oil & gas, process industries, nuclear and rail. Today, only about one half of imported marine grade Okoume plywood carries the Lloyds certification. Marine plywood mills that are certified by Lloyds, pay a fee in excess of $10,000 to have inspectors from Lloyds visit their manufacturing facility on a regular basis and test current production to ensure that it meets the British Standard 1088.
Some mills will produce marine plywood that is Lloyds certified, and some mills will produce a panel that is "made in accordance with" the Lloyds standard. The British Standard 6566 is not currently certified by Lloyds, however, it is still used as a guideline by some marine plywood manufacturers.
One thing to note about Okoume plywood is that, as previously mentioned, the marine grade quality is almost exclusively produced in Europe. Within the last five years or so, China has begun to utilize the Okoume logs for face veneers and they are laminated to the Poplar core that's grown extensively throughout China. The Okoume logs themselves come from Gabon in central Africa. This product may go by the name of "Okoume" plywood, but it's nothing like the Okoume produced in Europe. Typically, you will find only the face veneer is made from Okoume, and its peeled at thickness' of 0.3mm or 0.5mm.
The type of glue most commonly used in China is interior (Urea) glue and its almost always laminated to a Poplar core. Panels of this quality have in some ways ruined the reputation for Okoume, but this is quite a different product to the marine grade panels we've discussed here.
-- Contributed by Luke Wolstenholme, of Wolstenholme International.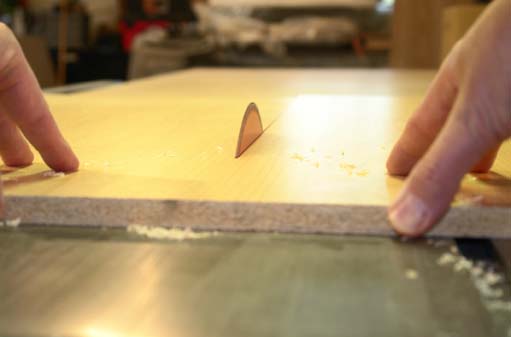 WE'VE GOT BUNK QUANTITIES OF BALTIC & UV2 BIRCH PLY
PERFECT FOR CABINET SHOPS! We now have plywood in bunk quantities for constructing your cabinet boxes. These dimensionally stable, economically priced sheets will be kind to your budget. Also perfect for building exhibits, displays, built-ins, just about any commercial or residential project requirements.
Find Baltic & UV2 Birch Ply product listing with pricing at left listed under 4'X8' BIRCH - Prefinished. Or call us for a quote - 800-292-5937.
USE MARINE PLYWOOD WHEN MOISTURE IS A PRIORITY
Marine plywood is manufactured to the highest standarads, from durable face and core veneers, with few defects so it performs longer in humid and wet conditions and resists de-laminating and fungal attack. This type uses top quality adhesives and is most commonly graded as A-A, with two top grade faces. Pricing is below left.
MAKING SENSE OF MARINE PLYWOOD CHOICES
The many options and price points available to fulfill a wide range of marine applications make it important to understand the trade-offs. Read more...
BS1088 LLOYDS REGISTER & BS6566 CORE QUALITY: WHAT ARE YOU REALLY GETTING?
Known to be the toughest standards in plywood manufacturing, boat builders in the United States are requesting more and more that their plywood be made to the British Standard 1088 or British Standard 6566. Read more...
Boat builders in the United States are requesting more and more that their plywood be made to the British Standard 1088 (BS1088) or British Standard 6566 (BS6566)
WHAT DO YOU GET FOR THE PRICE?
Prices listed are per sheet. 1 thru 10pc pricing may be obtained by mixing thicknesses and specie. 25pc pricing is for same thickness and specie. 25pc Bunk may contain up to 10% Shop Grade (a couple sheets may contain slight defects), and are special ordered.
DIMENSIONS
4'x8' sheets in stock. Other sheet sizes available by special order with minimum quantity requirement. Thickness: 1/8", 1/4", 1/2", and 3/4" in stock. Other thicknesses available by special order. Call for more details 800.292.5937.
QUALITY ASSURANCE
Our European Birch plywood is produced by a quality controlled process using a superior glue bond coupled with a multi-ply design, giving the plywood superior strength, rididity and dimensional stability. The foreign grading system uses alpha designations to refer to the quality of the plywood B(S), BB, CP, L, and C with B(S) being the best. The first set of letters refers to the face. The second set refers to the back.
HALF SHEETS AVAILABLE
For your smaller plywood projects, we have half sheets, with minimal damage, of many species -- all at garage sale prices. Call us at 800-292=5937.
PLYWOOD TERMINOLOGY
PLYWOOD SURFACE GRADES

A-1, A-4...These alpha-numerical designations refer to the grade of the plywood face and back surfaces. Plywood can have faces and backs of different grades. The letter identifies the face surface grade while the number identifies the back surface grade. Face Grades range from A thru E, with A being the best. Back Grades range from 1 thru 4, with 1 being the best. Plywood with a 1 or 2 back grade will have the face and back of the same specie. Plywood with a 3 or 4 back grade can have a back surface of a different specie than the front surface.
PLYWOOD SURFACE GRAIN PATTERNS

There are two ways to influence the plywood surface grain pattern -- by the types of veneer cuts, and veneer matching during the glueing process.
1. VENEER CUTS: Depending on the manner in which a log is cut, strikingly different visual effects can be achieved with the wood's grain and characteristics. Two logs of the same species, cut in different ways will produce distinctive veneers.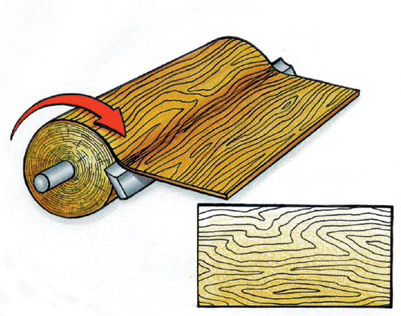 ROT (Rotary Cut): The entire log is cut or "peeled." It can yield full sheets of veneer with broad grain pattern.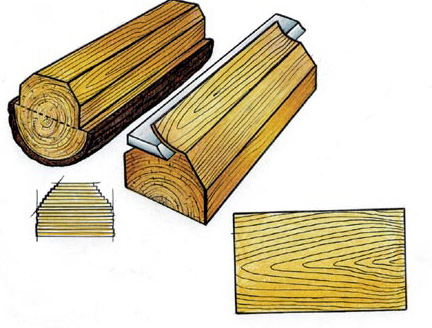 PS (Plain Slicing): The flitch, with the heart side against the slicer table is cut parallel to a line through the center of the log.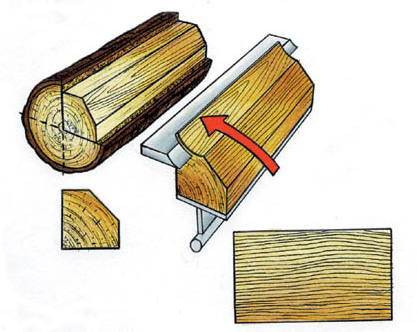 RC (Rift Cut): A cut angle of 15 degrees to the radius of the flitch (half log) is used to minimize the ray flake affect in oak.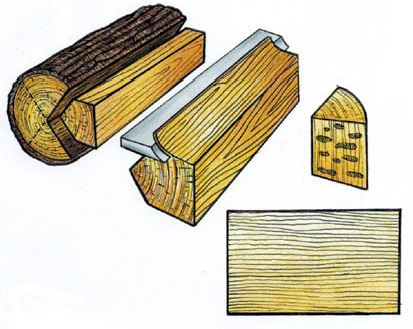 QS (Quarter Slicing): This method prodcuces a series of stripes -- straight in some woods, varied in others. Most species have the same look as rift cut.
2. VENEER MATCHING: The natural coloration and arrangement of a veneer panel face determines the resulting visual effect. Different matching techniques are used for specific panel applications.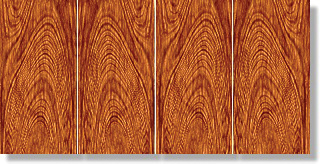 BOOK MATCH: Every other piece of adjacent veneer is turned over, resulting in identical, but opposing patterns.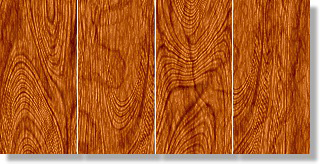 PLEASING: Veneers are matched by color or similarity, not necessarily by grain characteristics.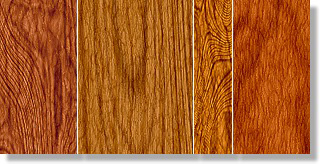 RANDOM: Veneers intentionally do not match at the joints, providing a casual effect.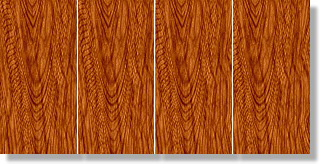 SLIP MATCH: Adjacent veneer sheets are joined side by side, same sides up, for a uniform grain pattern.