The 'Clearance Items' link immediately below will take you to the Rockler website. Any orders you place will be shipped directly to you from Rockler. By clicking on the link, the Rockler website will open in a different window.
Click on the Rockler logo below to sign up to receive a FREE Rockler Catalog. The catalog will be mailed to you directly from Rockler.

SHOP ON-SITE AT EITHER OUR CHARLOTTE MI OR SOUTH BEND IN LOCATIONS.
(view map)
| | | | |
| --- | --- | --- | --- |
| STAINS | FINISHES | ADHESIVES | HARDWARE |
WE SELL WAXILIT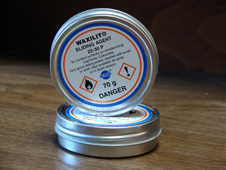 As seen in Fine Wood Working magazine
April 2013.
Waxlit is quite a little gem of a find. Stop spending more time cleaning up excess glue than completing your project.
With Waxilit, glue squeeze-out will lift right off preserving a clean surface for stains and finishes.
$15.95/ 70g
(Plus shipping & handling)
Call us to order. 800-292-5937
(We do not source this product through Rockler)
WE CARRY THE TOP NAMED BRAND ADHESIVES TO MEET YOUR WOODWORKING NEEDS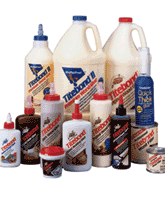 TITEBOND ADHESIVES
Titebond is recognized as the industry standard for general woodworking applications, this original aliphatic-resin glue has been the preferred choice of professionals for over 50 years. It provides strong initial tack and fast spped of set to reduce clamp time. Titebond Original Wood Glue develops a bond stronger than the wood itself, and offers outstanding sandability and is unaffected by finishes. It provides excellent resistance to heat, solvents and mildew. It is ideal for both hardwoods and softwoods, as well as most other porous materials. Titebond Original Wood Glue is easy to use, non-toxice, solvent free and cleans up with water.
GORILLA WOOD GLUE
Gorlilla glue is a high quality product designed for both indoor and outdoor woodworking and carpentry projects. Formulated for hardwoods, softwoods, and natural wood composites. Stronger and faster than leading wood glues with a shorter clamp time, Gorilla Wood Glue drys a natural color, is sandable, paintable, and FDA approved for indirect food contact. Solvent and mildew resistant, it works well with radio-frequency gluing systems. The Corilla Wood Glue is water resistant, stronger than leading wood glues, has short clamp time, dries natural -- no dyes, sandable, paintable, solvents and mildew resistant, non-toxic, and cleans up with water. The glue is FDA approved for indirect food contact and works with radio-frequeancy gluing systems. Gorilla Wood Glue is formulated for hardwoods, softwoods, and wood composites.
SYSTEM THREE EPOXY SYSTEM
System Three offers top quality, environmentally friendly, specialty adhesives, coatings, en capsulants, and composite resin systems, serving the needs of boatbuilders and hobbyists. Epoxy systems offer superior adhesion, toughness, resiliency, and moisture resistance unlikely to crack, split, or delaminate. System Three Epoxy has an indefinite shelf life, has almost no odor, and is D.O.T. classified as non-flammable. System Three Epoxy is used in the construction and fiberglassing of strip built canoes and small strip boats, tradtional plywood construction, stitch and glue plywood construction, and cold molded construction, to mention a few.
WE CARRY THE TOP NAMED BRAND FINISHES TO MEET YOUR WOODWORKING NEEDS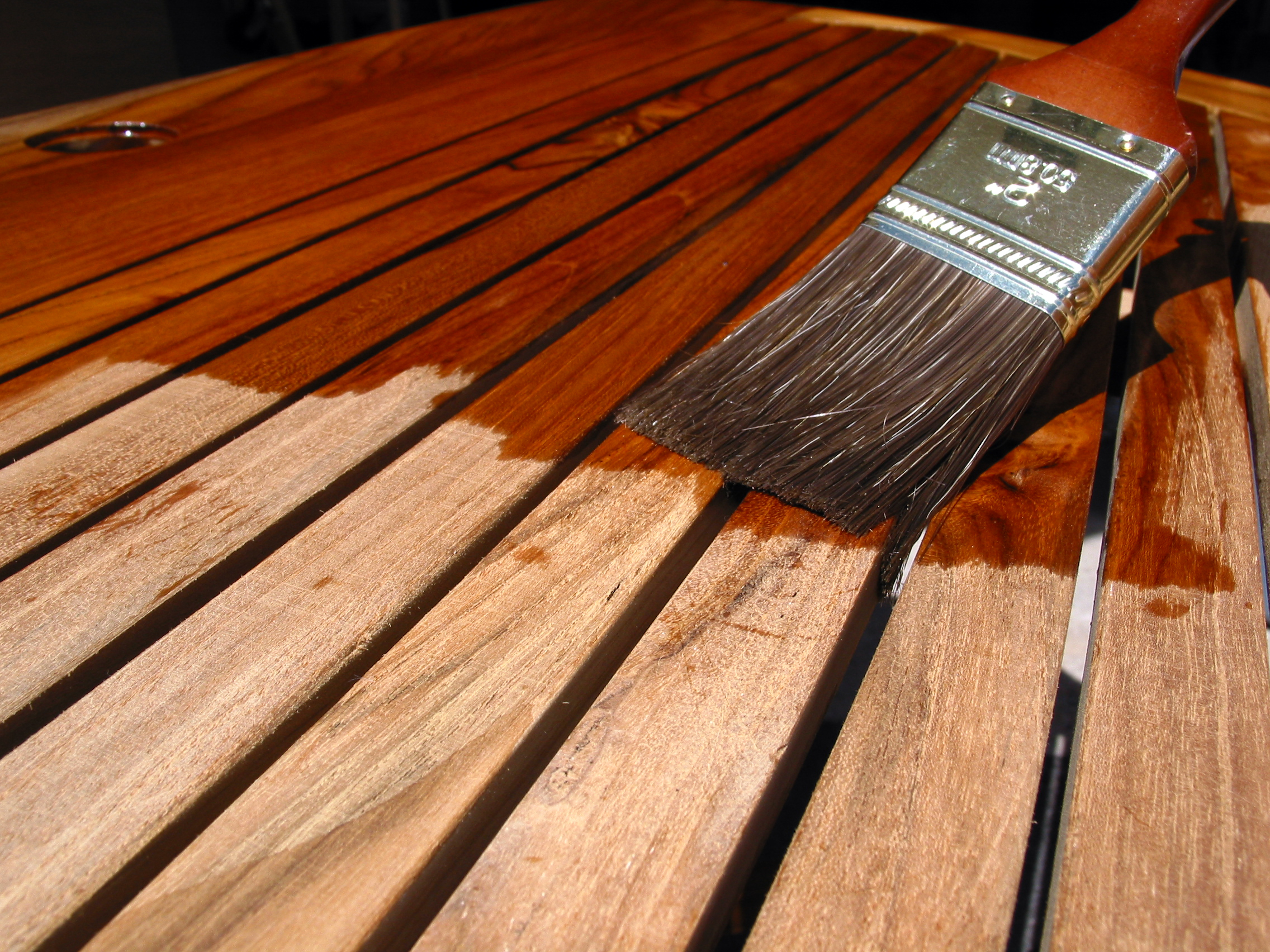 WATCO DANISH OIL
Watco Danish Oil is a unique blend of penetrating oil and varnish which hardens in the wood, not on the wood. Watco Danish Oil penetrates deep into wood pores to protect from within and to enhance the natural look and feel of the wood. It creates the rich, warm glow of a traditional hand-rubbed finish. Many projects can be completed in less than an hour -- simply bruch or wipe on and wipe off. Watco Danish Oil is the choice of fine woodworkiers and novices alike. Available in Quart and Pint sizes.
GENERAL FINISHES
As a finishing Professional, look no further for fine eco-friendly furniture wood stans, cabinet finisheas and sperior green wood finishing products. Check out the award winning waterbased topcoats, waterbase wood stains, glazes and professional waterborne coatings. Their finisheas are recognized in the professional wood finishing industry as some of the finiest woaterbourne finishes available. Easy to use and friendly to the earth.
ZAR WOOD STAINS
Well-known for their ability to beautify and protect all types of wood, ZAR® Wood Stains provide controlled penetration bringing out the natural beauty of a variety of wood surfaces without streaks or lap marks. ZAR® Wood Stain is perfect for cabinets, paneling, antiques, wood trim and unfinished furniture. ZAR® can be applied over painted and previously varnished surfaces for a beautiful wood grain effect.
We have partnered with Rockler to bring you thousands of choices in quality hardware, knobs, pulls, handlies, hinges, clasps, latches, and more. Stop in to one of our two locations to see our selection.